You're In For A Hauntingly Good Time . . . 
I obviously love this movie! It has a great cast: Liam Neeson, Catherine Zeta-Jones, Lili Taylor, Owen Wilson and directed by Jan De Bont.
When you think of 1999 — wow! That was a long, long, long time ago . . . I don't know if that makes this picture a classic, but I would say it is a "must have" in your personal video library.
Let's Take A Look At The Haunting . . .
The Haunting
The infamous haunted Hill House . . .
For younger people that may mean nothing . . . but it would be like the Stanley Hotel from The Shining.
It's a huge mansion with a history . . . and it's obviously haunted . . . by the children . . . and old Mr. Crane himself . . . Or is it that the house is alive?
From the beginning of the movie we get to know Nell and her story . . . She comes to Hill House and meets Theo, Luke and Dr. David Marrow. This is a good group of people to be trapped in a haunted mansion . . . and to discover its mystery . . . 
They each came for their own personal reasons and Dr. Marrow had his own agenda in mind . . . But it does seem the house and the spirits have an agenda of their own . . . 
I found myself caught up in it and hopefully you will, too.
Moving On To The Mad Hatter — Another Amazon Prime Video I Watched . . .
Henry and three of his college classmates join their professor for a weekend at The Mad Hatter's Mansion. Back in the 1880's this was the place to be invited. These were lavish parties — one resulting in a horrible fire killing hundreds in attendance including The Mad Hatter's young daughter.
This film is directed by Catherine Devaney and stars Armando Gutierrez, Samuel Caleb Walker, Isadora Cruz and Rachel Brunner.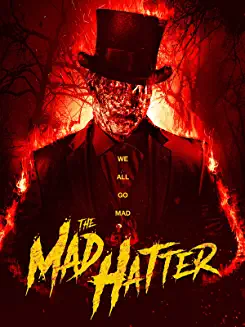 The Trailer Will Either Have You Eager To View This Video Or Run Away . . .
The choice as always is yours. Although there are a cast of characters, Henry stands out and we experience the apparitions he sees right along with him . . . But for some reason I never felt really connected to Henry or to any of the others . . . 
I even attempted to watch it again for this post . . . and I just didn't want to invest the time into it . . . But I'll watch The Haunting again.
This movie was a bit too creepy for me . . . the caretaker and the food that was prepared . . . it was a complete turn off for me . . . and maybe that was meant to be that way. It just didn't translate to a feeling of belonging and a group dynamic with the others. It just seemed everyone was doing their own thing and no really being engaged with the setting and what was going on . . . Or I missed out on something . . .
Obviously, I don't recommend The Mad Hatter . . . although I do like the name . . .
Here At CryptKickers.com Everyday Is A Good Day For A Scary Movie
My favorite is The Haunting. I don't remember exactly when I first saw it, but it has been on my mind from time to time years later. So when I saw Amazon Prime Video had it available, I had to watch it again!
Yes, that was after watching The Mad Hatter, also on Amazon Prime Video . . . 
Movies, Ghost Stories, Personal Paranormal Experiences all have an impact on our lives and imaginations . . . How we handle them depends upon what we're going through at a given time in our lives . . . And how we relate to a given story or in the case of a movie, the characters . . . and how well the writers, etc. put the story together with enough backstory to give us a feeling of being part of what is going on during the whole movie . . . 
In The Haunting I seemed to be involved . . . In The Mad Hatter, not so much . . . I just thought it was creepy and I had no real investment in the nightmares, paranormal experiences and apparitions that were appearing . . . And, quite honestly, I was glad when it was over and I could watch something else . . . 
But . . . That's just me . . . You may have loved The Mad Hatter . . . If so, please leave me a comment below. I'd love to know your thoughts.
Thanks for stopping by!
Sharon